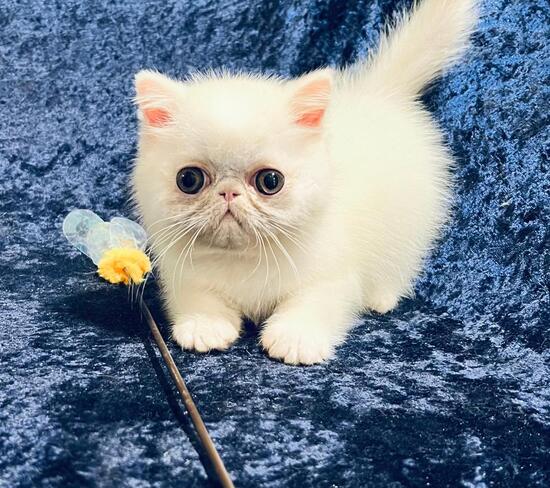 Copper Eyed White
Exotic Shorthair Male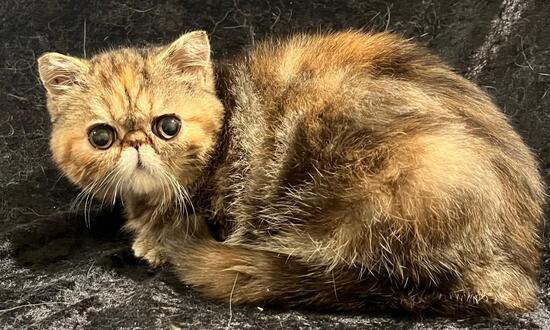 Brown Patch Classic Tabby
Exotic Shorthair Female
Brown Mackerel Tabby
Exotic Shorthair Female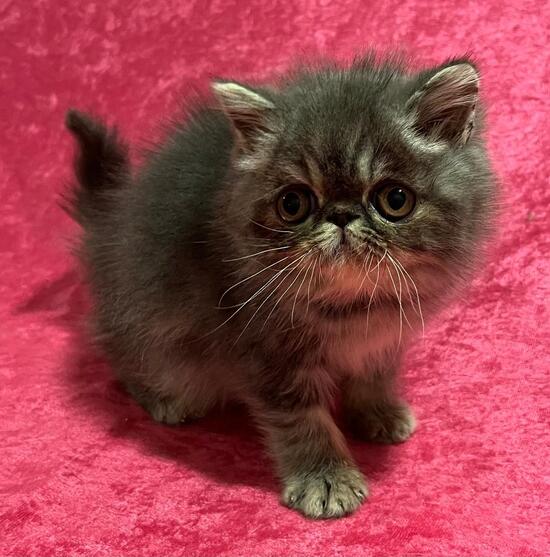 Blue Classic Tabby
Exotic Shorthair Male
We ship nationally as well as internationally via pet nanny.
Page updated September 18, 2023.
Here are some things to know about reserving a kitten:
We do not let anyone reserve a specific kitten until it has been cleared by our veterinarian.  We may show you photos of babies, but they cannot be reserved until they are vet cleared.
We do not keep a waiting list – only a reservation list from people who put down a deposit.  This gets you a place in line for first right of refusal by date of deposit.
You can specify gender and/or color, and then you will only be offered those babies that fit the reservation.  Or you can ask to be offered everything that comes up when it is your turn.
We don't know the exact time frame that you will wait.  Only Mother Nature is in control of that, but we do have kittens coming quite often.
We don't sell every kitten we produce.  You may see a kitten on our Facebook page that is not going to be offered.  Our number one goal is producing show kitties for our program.
If you place a deposit, you will be offered kittens.  You will be expected to decide if you want the kitten in a reasonable amount of time – like 24 hours max.  We have others waiting.
If you "disappear" after placing the deposit and do not respond when we attempt to contact you via the means we had been communicating (phone/text/email/messenger) and do not respond to our communication attempts in a reasonable amount of time (24 hours) we will "park" your deposit until we hear from you.  We will not continually try to reach you if you are not responsive.
Deposits are non refundable. Your deposit is your commitment to adopt a kitten with us.
We love seeing our babies go to your loving homes, and we look forward to working with you to find the purrfect companion for your household!
Read testimonials from families who have adopted from us.
Shipping a Persian or Exotic Shorthair Kitten on an Airplane
We take special care to transport our kitties via the airlines. We have several well qualified pet couriers that we work with to get your kitty safely delivered to you. The cost depends on where we are shipping to of course, but this method is so much easier on the animal that air cargo, and it is about the same price. If a carrier, health certificate or other documentation are required to get a cat to you, you will be responsible for those fees and costs.
When considering adopting a Persian or Exotic Shorthair Kitten, it is always a good idea to prepare.
There are lots of ways you can get ready for your new family member!  Please visit our Education page for more information on preparing to bring home your new kitten.
Make sure you are ready for your new kitten. Please visit our Preparing to bring your kitten home - Kitten Proofing information page.